Several years ago, I was given a couple sections of oak log, nearly straight-grained. I set it aside to season for nearly a year, then cut some of it into rough boards and planed them down to 1/4" lumber. A friend of mine, a teacher of English who shares my love for fine paper and good pens, and who is also a yoga instructor, was about to move halfway across the country, so I conceived of a box for her.
To reflect her interest in yoga, I carved an OM symbol, bleached it slightly to give just a little contrast to the rest of the box, and glued it onto the center of the box's top. The purple "rails" running from side to side are there not only to provide some graphic interest, but also to hide the joints between the three small boards I pieced together to make the span.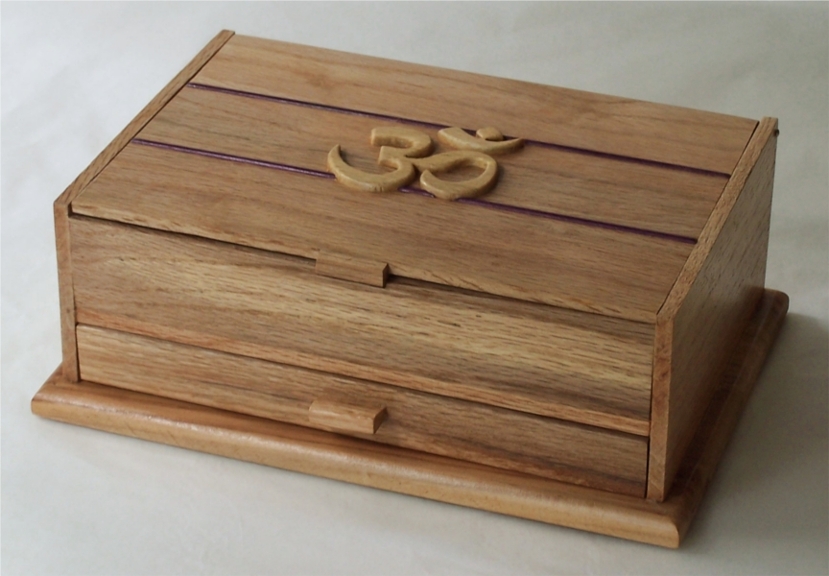 By the time I built this box, I had become much more trusting of my glue joints, so this box is made entirely without metal fasteners or, for that matter, metal hardware of any kind. The box has two compartments: a simple, open space above that opens from the top and is lined with felt on its floor; and a drawer below, that has grooves for three pens or pencils at the front and open space behind. The lid swivels open on two wooden pegs rather than on hinges.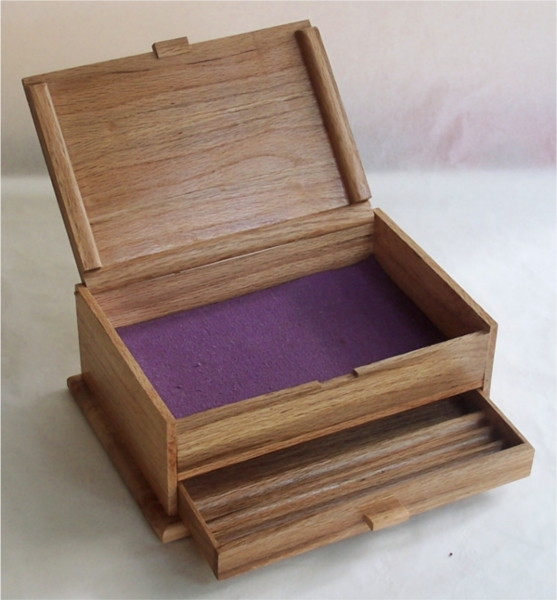 The box is finished with boiled linseed oil and sits, like Box #1, on a felt pad. My friend's mother had given her a hand-made journal, with pages of hand-laid paper, that fits nicely in the upper space, and I added a fountain pen, a mechanical pencil, a fine-point Sharpie in purple (her favorite marker), as well as ink cartridges, pencil leads, and erasers.